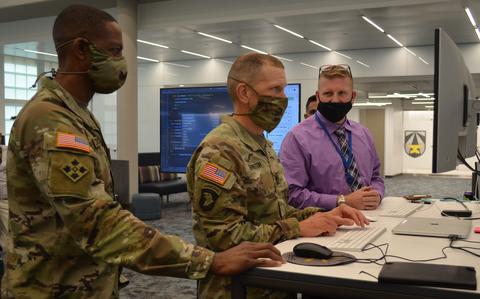 Master Sgt. Josh White, a cyber operations planner, had 18 years in the Army and was preparing for his retirement when the creation of the Army Software Factory changed his mind. He'd always had an interest in script languages that are used for computer programming, but he never saw a way to pursue it in the Army.
That is until he saw the Army was building a team of soldier-software developers in Austin, Texas.
"I felt like I had accomplished everything that I could possibly accomplish in the military," he said. "[The Army Software Factory] really just changed my perspective on the military. I'm happy to be able to give so much more back to the Army."
In cyber operations, White was focused on securing Army networks but now as one of the inaugural members of the Army Software Factory, he's helping create computer programs and tools that range between making the everyday lives of soldiers better to imagining the technology needed for future battlefields.
Still in its infancy under Army Futures Command, the software factory began accepting soldiers at the start of the year. About 100 soldiers and civilians are assigned to factory, said Lt. Col. Vito Errico, founding co-director of the Army Software Factory.
Some, such as White, come in with their own experience with computer coding and others with a desire to learn. The soldiers come from a variety of ranks, service histories and occupational specialties to become coders, programmers and designers in an office space that disregards rank to encourage collaboration.
The goal is to build software solutions that save the Army time and money while keeping hold of the intellectual property it creates, Errico said. As it stands, the Army doesn't have a computer programming occupational specialty, but the skills of some of the soldiers assigned there show it definitely exists among the ranks.
"The Army's full of soldiers that … the legacy processes don't catalog well," Errico said. "Why not better leverage this talent to help push the Army forward?"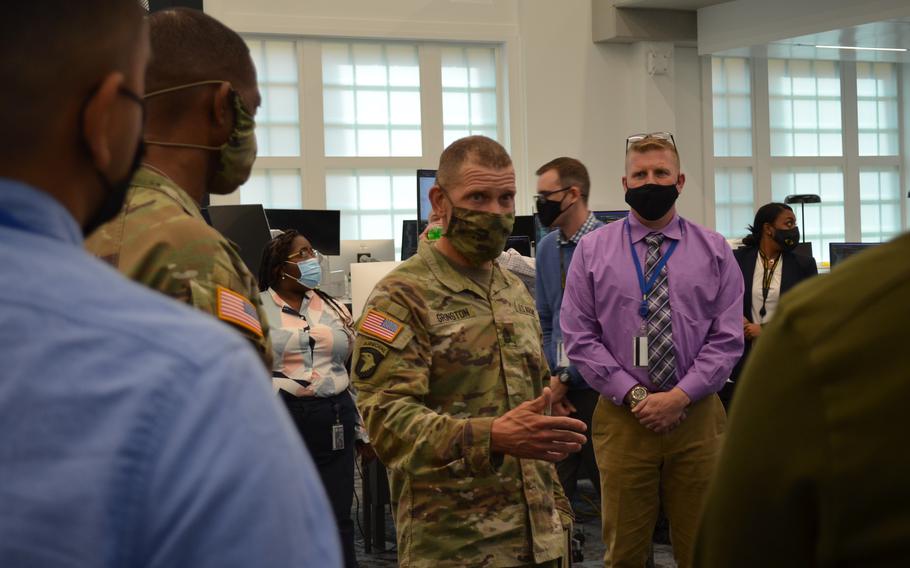 White began the application process to join the factory while assigned to Joint Base Lewis-McChord, Wash., where he helped leadership build an application that used artificial intelligence to categorize Facebook comments from virtual events that the base hosted during the coronavirus pandemic.
Similarly, 1st Lt. Egor Krasnonosenkikh used his time at home during the coronavirus pandemic to learn how to code. Then he developed an app to help soldiers train for the expert infantryman badge that is now in use by about 29,000 people, he said.
"That's when I really realized that if one person can have this much of an effect on a battalion, a brigade and just the Army in general, what can a group of us accomplish? That's the main reason that I'm here," Krasnonosenkikh said. He joined the software factory as an application engineer.
During an Oct. 28 visit to the factory's headquarters in an Austin Community College building, Sgt. Maj. of the Army Michael Grinston said he was "really proud of the ingenuity" and creative problem-solving Futures Command used in establishing the software factory.
The Army would normally identify a missing job skill, create a military occupational specialty, find a facility, develop a training program and maybe in 10 years would begin moving soldiers into the job.
Instead, the software factory moved from concept to inception in about two years and already has an Army-wide program in operation that reduced the time it takes soldiers to get parts from a warehouse by 35%.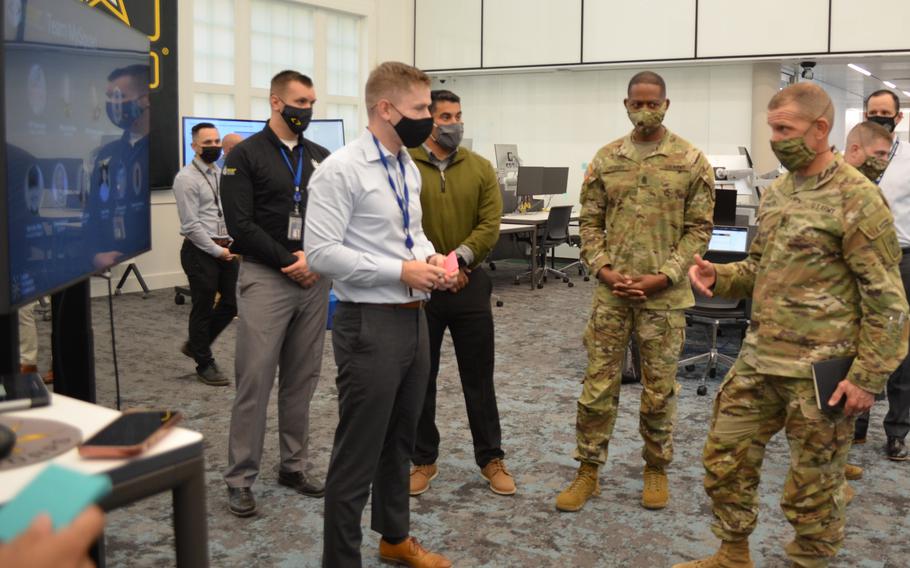 Reducing reliance on contractors
Grinston and Errico said they see the factory helping reduce the Army's reliance on contractors to create technology. During Errico's presentation to Grinston about the factory's work, the two shared with each other stories from their service when waiting on contractors to work on computer systems caused delays and inefficiencies or forced soldiers to use antiquated technology while someone else built an update.
Errico referenced a Defense Innovation Board study that found software procurement and development can take upwards of 10 years inside the Defense Department because of the contracting processes.
"It's one thing for a tank, it's another thing for a piece of software, right? It's already out of date in two years," he said.
The wars in Iraq and Afghanistan enabled that reliance because it was possible for the military to fly those civilians in and out of the countries, Errico said. Futures Command is looking to future wars where that might not be an option. The vision is to build a force that could attach to a unit and build software to match an emerging threat or need.
"We know that those commanders on those future battlefields, the one that makes the smarter, faster decision is going to win. And that's software, right? That's data," Errico said. "You can't really say ahead of time, what that's going to look like because you don't know what position that commander is going to be at. A lot of this is forecasting for uncertainty. The best way to do that is to just get a broad capability to the edge."
Based on that vision, Errico pitched the idea of the software factory about two years ago after joining Army Futures Command, which was established in 2018 to modernize the force and prepare for warfighting of the future. A former Army aviator, Errico piloted the now decommissioned Kiowa scout helicopter and moved into several assignments and education opportunities that focused on creating solutions with technology.
After successfully developing an app to prove the concept worked, Errico received approval to build the software factory into an operation that will eventually employ about 220 soldiers.
That initial app targeted the Army's supply chain to mirror the speed of an Amazon fulfillment center. By automating some of the logistics processes, the software factory reduced the time it takes to get parts to soldiers by 35% while giving the Army a 65% cost savings.
Though Errico declined to provide more specific cost savings, he said the Army saves about 3,500 soldier work hours per day in supply support activities because of their work. That allows soldiers to prioritize other tasks outside of filling supply orders.
"There's an intangible in your narrative," Grinston told Errico about the numbers. It doesn't account for saved frustration, he said.
With the initial program now used Army-wide, the software factory is looking to tackle other problems that can be solved through technology while also expanding its workforce.
The factory expands capacity by adding about 25 to 30 new members every six months, Errico said. Soldiers must go through an application process similar to that of a special missions unit. The preparation includes a behavioral evaluation and a board review to track that candidates can meet specific goals in the months and weeks leading up to their arrival in Austin, so they are ready to begin their baseline training.
Each application cycle — the factory is now in its fifth — generates up to 300 qualified applications from across the Army, he said. While most of those applicants tend to have some knowledge of programming, coding or design, it's not required.
"We don't care about the rank, and we don't care about the specialty. It's about the aptitude and the attitude," Errico said. "We get people who just really want to learn, and I think part of what we're trying to prove out here is whether or not you can take somebody like that and still reach an amazing outcome."
After initial training, soldiers jump into a "learning-by-doing" environment. The headquarters resembles a tech company, with an open design, white boards layered with sticky notes and desks grouped together by project.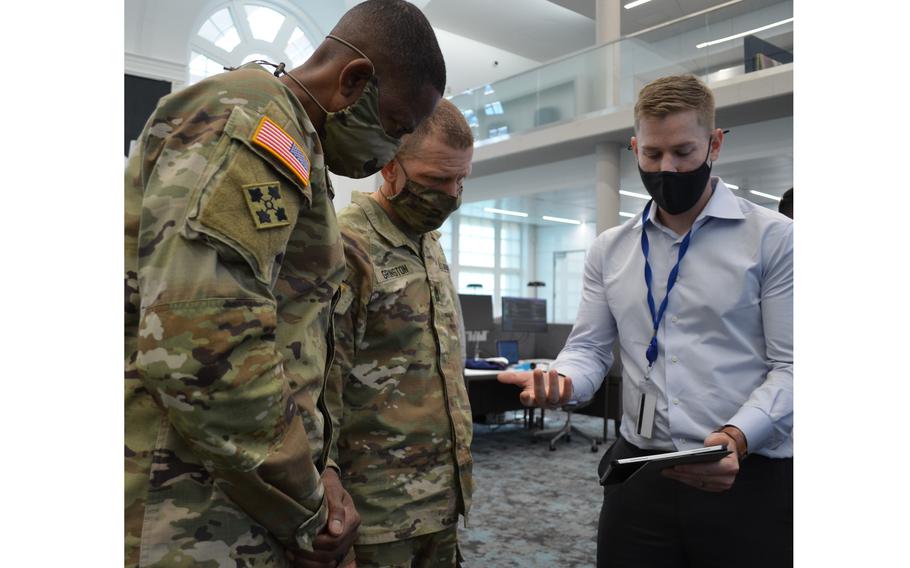 In development
During his visit, Grinston met with White and other soldiers working on a smartphone app created from the sergeant major's own idea, as well as other ongoing work to create apps for digital maintenance manuals for mechanics and another to improve how National Guard troops apply for jobs.
Grinston originally pitched a sponsorship app — a way to integrate new soldiers into a unit — but troops quickly told developers that's not what they wanted. Instead, they asked for an app to help with time management and task assignments. The result is an app named for Grinston's signature program — the "This Is My Squad" app.
"It's answering user needs, in our case, soldier needs, and you have to be willing to see where that takes you," Errico said. "That co-development is powerful, because it brings a level of credibility."
The My Squad app is intended to provide troops with access to training calendars, checklists on what's needed for the training and allow supervisors to assign tasks.
"The soldiers are using [the app]. The developers are developing it. And as we want this technology to change, we change it."
In the future, the app will hold contact information for a soldier's "golden triangle," which consists of those who care about the soldier and can be contacted in a time of crisis or concern.
With Fort Hood more than an hour's drive north, teams from the software factory visit the base weekly to meet with soldiers who are testing apps. Some days, they talk about problems with the app. On other days, they just observe troops in their daily routines to identify problems in their jobs, what frustrates them, and what could be fixed with specifically targeted software to improve morale and readiness.
"You can always rely on a soldier to be honest," White said. "Even if it is bad news, I want to hear it, so we can fix it. We have direct control of everything for the app here."
With senior Army leaders watching carefully as the software factory proves its value, White said he doesn't feel additional pressure.
"I'm going to work as hard as I possibly can, because I believe in the project," he said.