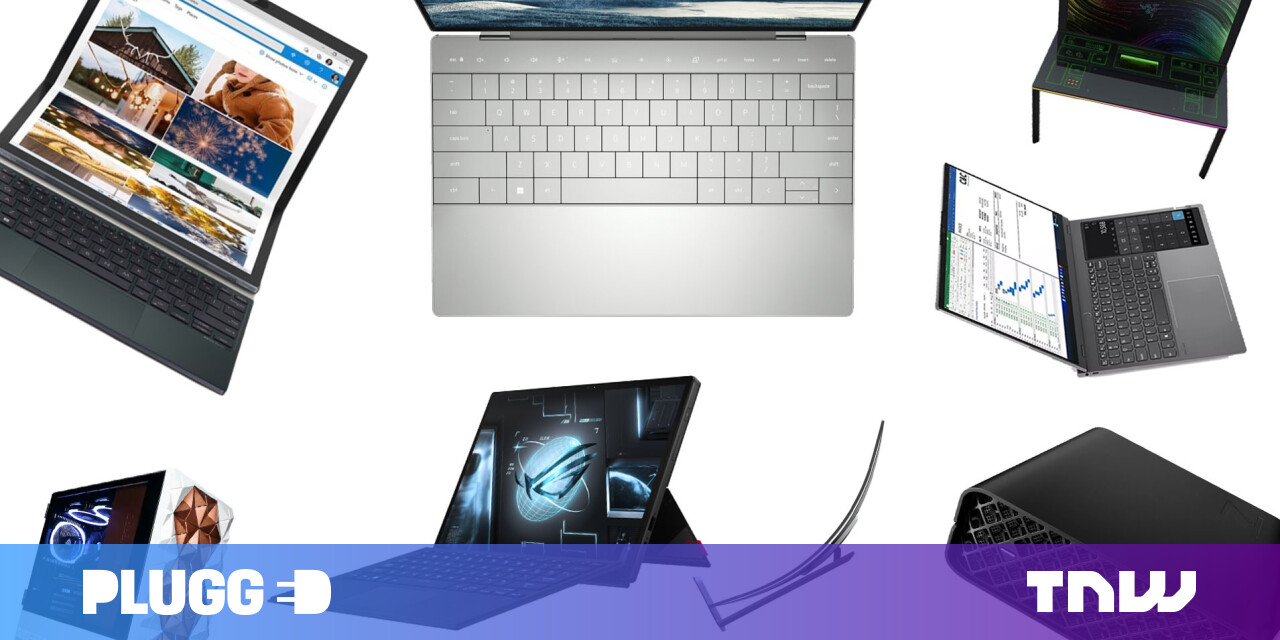 Every year, PC makers flock to CES to show off their latest hardware. Well, except the last couple of years, where the pandemic has made the event a more subdued, semi-virtual affair (the idea of attending a traditional, stuffed-like-sardines CES show floor is basically nightmare material in the age of coronavirus).
Still, PC makers announced some cool stuff, and our list below showcases some of our favorite PC hardware from the event.
Dell XPS 13 Plus
The Dell XPS 13 Plus was definitely one of the biggest laptop highlights of CES, albeit in part because of its controversial design. Dell decided it would take the popular  XPS 13 and dramatically change the design, most notably with a touch-sensitive strip at the top of the keyboard (reminiscent of Apple's old Touch Bar, but a lot less customizable), and a new hidden haptic trackpad.
These design elements, as well as a new keyboard with larger keys and smaller gaps, lead to a super clean design, but it's certainly a big departure for a nearly perfect laptop. Still, these design changes helped Dell improve the thermal headroom of the laptop, allowing for a more powerful 28W processor that brings it a bit closer to 15-inch laptop performance.
Lenovo ThinkBook Plus (Gen 3)
We actually first heard about the Lenovo ThinkBook Plus Gen 3 well before CES, but that doesn't make the laptop any less interesting.
As you can tell from the image, the laptop's key feature is a big-ol' 8-inch display embedded to the right of the keyboard. This 800 x 1,280 screen supports a proper stylus, allowing it to serve as a kind of integrated tablet. The main display is a 17.3-inch panel with a 21:10 aspect ratio, allowing you to fit 3 windows comfortably side-by-side.
Other than being a terrible design for lefties, I actually really like this design. One of the most common pet peeves for 2-in-1 PCs with stylus support is that it's difficult, if not impossible, to comfortably use the keyboard and stylus at the same time, and the ThinkBook Plus addresses just that. It could come in handy for digital artists and people who like to take handwritten notes too.
Asus Zenbook 17 Fold
Phones with foldable displays are slowly but surely becoming commonplace, and now the technology is making its way toward laptops too. The Asus Zenbook 17 Fold has roughly the footprint of an extra-thick 13-inch laptop when closed, but once unfolded display, a massive 17-inch panel is revealed. That's even larger than usual for a 17-inch display, given its 4:3 aspect ratio.
There are two ways of using the computer. One is essentially like a giant tablet, using a virtual keyboard in the bottom fold of the display. The other, more practical setup is with an optional Bluetooth keyboard and trackpad panel that can sit above the lower half of the display for portability, or which can be removed to let you access the full panel. That giant display has a built-in kickstand, so you can essentially have a desktop-sized monitor you can bring anywhere.
Mind you, this isn't the first time we've seen a design of this sort — the ThinkPad X1 Fold operated under much the same concept in 2020, but Asus' take definitely seems more polished so far.
CyberPowerPC Kinetic PC
If our phones and laptops are becoming more flexible, why not our desktops too? CyberPowerPC's new Kinetic PC breathes some life into desktop PCs with a new case with airflow ports that can open and close depending on your thermal needs.
You know what they say, a video is worth a million words:
I'm not gonna lie, this PC is only on this list because it looks cool, but hey, why else do people buy fancy desktop cases anyway? There are surely cheaper ways of increasing airflow — like, just having fixed vents that are open all the time — although I suppose the modularity could help keep things from getting too dusty. And if you're the type that prefers designing your own rig over buying a prebuilt PC, CyberPowerPC is considering selling the case separately from somewhere around $250, should there be enough demand.
ASUS ROG Flow Z13
ASUS' ROG Flow X13 previously made waves for offering a powerful dedicated GPU and optional external GPU in a 2-in-1 form factor. Now Asus is combining portability and gaming in another 2-in-1 form factor with the Flow Z13. It's essentially the gaming version of a Microsoft Surface Pro.
The beefy tablet sports up to a 12th Gen Intel Core i9 with an Nvidia 3050 Ti GPU. This can be expanded all the way to an Nvidia 3080 or AMD RX 6850M XT. Despite all this, the tablet weight in at just 1.1kg (2.4 lbs).
While this probably isn't an ideal form-factor for most gamers, I can definitely seeing useful for a subset of gamers who are also creative professionals — or perhaps just students who'd like to do some note-taking alongside their games.
Razer Project Sophia
Razer likes to show off at CES — remember when it made a giant mechanical keyboard? This time around the company unveiled a modular gaming desk, packing oodles of performance into the desk itself with swappable component modules, including programmable hotkeys, a system monitoring module, an eGPU, a wireless charger, and more. It also has an integrated display that comes in 65- or 77-inch sizes.
While it's anyone's guess whether it ever comes to fruition, it's nice to see PC makers exploring new form factors. Besides, Razer's Zephyr mask was once a concept too, and now that's a real product.
HP Z2 Mini G9
I'm a sucker for powerful, tiny PCs and HP's Z2 Mini G9 stuffs a ton of power into a miniscule frame. Measuring just 21.1 x 21.8 x 6.9 cm (8.3 x 8.6 x 2.7 in), the PC uses the latest Intel vPro K-Series chips, up to 64GB of RAM, and an Nvidia RTX A2000 (which appears to be close to an RTX 3060, albeit focused on professional applications).
HP also promises the thermals are good enough to prevent throttling, and both the graphics and RAM are removable for potential upgrades.
Honorable Mention: Whatever PC is using Samsung's Odyssey Ark Monitor
I've long held that more PC gamers with the space should use TVs as monitors, and now Samsung has basically made the most glorious giant monitor I've ever seen (in photos, anyway). The Samsung Odyssey Ark is a massive, 55-inch monitor with a highly curved display to prevent the weird perspective distortion you get from being such a large monitor from up closer.
Using a large, quality screen from so close makes for highly immersive gaming — it's like gaming in an Imax theater, from my experience. I also appreciate that the Odyssey Ark doesn't have a super gamer-y look. Unfortunately, Samsung hasn't provided specifics on the refresh rate or latency, but I do know I want to game on this screen.